Discover more from Pour Me A Story
celebrating our wins at a time where positivity has taken a hit
hey there friends, welcome to the maiden voyage of the good ship Pour Me A Story. that's a weird analogy but it's too late now, substack insists we write on slate tablets. 
anyway in case you're new to my brand of bullshit, I'm Adrian. I'm a (relatively) new citizen after immigrating here from Australia in 2013. I spent a lot of years in journalism and now I'm a glorified shoe salesman living in Denver with my lady, baby daughter and tortie cat. 
I also spent the past few years bartending on the side (due to the uhh lucrative nature of the newspaper business) until that old "global pandemic" thing shut that down. what I miss most about that gig was bullshitting with regulars and hearing about their lives since I saw them last, so I figured I could recreate that here. hence the name, Pour Me A Story. it's tenuous at best, but it rolls off the tongue.
as I mentioned in the intro post, the world is altogether Going Through It. all day every day we see bad, distressing news all over social media, and there's so much pain and anguish that sometimes it feels bad to feel good about something positive that's happened to us, whether it's big or small. in this space I want to shine a spotlight on those good things and bring them to our timelines, our inboxes, our fax machines (still working that functionality out). I hope you guys enjoy the ride.
Anyway, We Have Company
this week's guest is Real Good Tweeter Adam Jacobi. you know those great folks on here who you follow for so long that, when you finally do a reply good enough to warrant a follow back, you can always remember where you were when they did? well maybe that's just me, but I was on my couch in West Palm Beach, Fla., in 2017 when Adam blessed my follower list. it may have even been Super Bowl Sunday night. anyway I got to have some beers in real life with him later that year and folks, he's a very good egg. we had a chat on Tuesday night, which you can read below.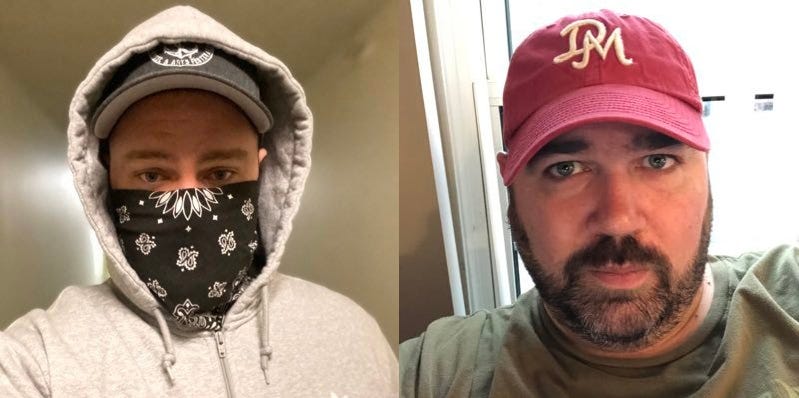 AC: Hey dude, thanks for being my inaugural guest. what's the atmosphere like?
AJ: The times, they are uncertain, friend.
AC: Absolutely no question about it. All we can do is the best we can. And that's what this here newsletter is aiming to do: celebrate our wins — big and small — in uncertain times. What's the best thing that's happened in your world recently?
AJ: I've got good news in social, personal, and family. Anything you want to hear first?
AC: Whichever you prefer!
AJ: All right! My 98-year-old grandmother has recovered enough from a broken ankle to be able to stand with a walker again. We moved her out of the retirement home after her injury so she wouldn't have to try to recover in a solitary environment. It's a luxury to have a family member with a free bedroom and the time and resources to make sure she's taken care of, to be sure, but today was a welcome victory there.
AC: Oh that's fantastic. Health concerns have such a magnified stress factor attached to them amid All Of This, so a positive outcome must be a huge relief. I bet your grandmother has a wicked sense of humor, just a hunch.  
AJ: You're a smart man. (Editor's note: I did not pay Adam to say this.) She grew up in the Dust Bowl with a single mother and ended up with a college degree, a job in foreign affairs, and then raising five kids. She's a tremendous woman who has already lived a tremendous life. 
AC: How about on the social front?
AJ: Socially the pandemic has obviously shrunk some circles, but living in an apartment building has led me to get to know my neighbors and their circle of friends, and one of them in particular. I won't blow up her spot just yet but we'll be having French onion soup soon. That's not a weird euphemism, it's cold here and we cook. 
AC: Haha. The thought of "french onion soup" being a euphemism didn't immediately cross my mind, but now it's all I'm going to think about when I see that dish on a menu. That's sending me off on a tangent: You're widely regarded as the best air fryer cook on my timeline. Are the culinary arts something you were flexing with before the purchase of the air fryer?
AJ: Yes but! I should also point out that I was well into my late 20s before "cooking" meant much more than a frozen pizza or hamburger on a Foreman grill. Incidentally, Twitter (back in 2010 before it was the HELL APP) got me in the mood to start cooking recipes. I'm still very recipe-oriented and dreadfully slow at the ~mise en place~ but that's okay! It's been fun to learn that ✌🏻kitchen skills✌🏻 aren't what you need to make great food. 
AC: My old man learned to REALLY cook when he was, like, 45 and started dating and he told me "if you can read (a recipe), you can cook." Pretty sharp. What's the Adam Jacobi signature can't-miss dish?
AJ: He's right, and cooking FOR someone makes a big difference. I'll just add that in addition to good instructions, you need good ingredients and good tools. To me, the only skill you really need is patience. 
As far as the can't-miss dish... I've got a white chicken chili that has won a company cook off. Thanks to Kenji Lopez-Alt for the (very slightly edited) recipe—good instructions, yanno?
AC: Good instructions are crucial. Like anything, communication is so important! Alright where were we. Hit me with the personal good news!
AJ: Ah, speaking of communication — I finally started therapy yesterday! First time in well over a decade and the first time I've felt good about my counselor. It's weird for me to put that info out into the world but nobody actually gets any points for being quiet about the help they're getting, right? I don't get to trade stoicism in for Bonus Buckz at Dave & Buster's or whatever.
AC: The exchange rate at Dave & Buster's is awful anyway. That's a power move, it ain't an easy step to take and it's even harder when there's the possibility of not having a therapist that fits your needs. Happy for you man!
Alright two more then we're done I promise. And forgive me if this is a touchy subject but we do hard-hitting big-J journalism here at this fledgling publication. I know you're an Iowa fan: how is Iowa football faring? Is that also positive news?
AJ: The season starts this Saturday and I guess I'm looking forward to it? In a vacuum some football is objectively better than no football. But we don't live in a vacuum, we live in uncertain times — crowds necessarily make me feel uncomfortable, even just seeing them on tv, and it feels like we need to actually get all of this under some semblance of control. But maybe not? I don't know. I want the real football back, big crowds and all, but we just keep moving in the opposite direction.
AC: Shows you what I know about football, I had assumed they'd started already. Feels like we need to give a little more in terms of public health and safety to get rewards like sports and other forms of normalcy back, but I'm no expert. 
Okay last one's a softball. Anything you would like to gratuitously plug? Newsletters, causes, miracle cures? The microphone is yours! 
AJ: I'd like to shout two out. No rules in a pandemic. The Action Cookbook newsletter is run by a fantastic writer and even madder scientist in the kitchen, and someone I'm happy to have called a FoodBro for years. Also shouts out to the new Future Islands album. Those dudes rock. 
And thanks man! This was a blast.
AC, to self: And a blast was had by all.
Worthy Consumables
in this segment, I figure I'll just share some things that I enjoyed watching or reading or listening to or eating or drinking over the past week? I dunno man I'm kinda making this up as I go along.
I dunno how many parents we have out there in the PMAS audience, but assuming there are none, allow me to paint a picture: after baby gets her bath, her final feed and goes down to sleep, we've got about two hours' worth of energy to make our own meal and wind down for the day. that generally means we've got the concentration span for one (1) episode of streaming television, and over the past week or so that's been The Haunting of Bly Manor on Netflix.
this is a follow-up of sorts, but not a sequel per se, to The Haunting of Hill House, which personally I found downright fucking terrifying. I like scary movies and TV shows but I'm not very good at remembering what happened, even mere hours after watching them. in saying that, I distinctly recall Hill House being real damn spooky.
ANYWAY. we just got through Bly Manor, which features some of the same cast as Hill House but in an entirely separate narrative. it's set in the English countryside (uh oh) in a large, old manor (gulp) and two of the main characters are freshly orphaned children (GREAT). without spoiling anything, I think it was far less creepy than Hill House and felt like the character development was better. Do I recommend it? Yes, and I bet you can watch it faster than we did.
Breaking: Good Things Happen To Good People
our good pal Zach had some exciting news to share this week as well. might have to get his wholesome self on the newsletter in the coming weeks.
Parting Note
like I said, I'm still working this out. but this will probably be the space where I leave a song of some sort.
since I was really excited about having interviewed Adam and wanted to get this whole sucker on paper immediately, I'm writing this on Tuesday night despite its Friday arrival in your inboxes. anyway, today I went for a run before work and, a quarter-mile in, I received a phone call, the subject of which was basically "someone is mad that something you own has a fairly major fuck-up." once I got off the phone, I started my playlist again, and tore off at a self-punishing pace.
this was the song that started at that moment, and that "I'm mad at myself" pace led me to clock my fastest 5K time, which is pretty pleasing for an old guy with creaky joints. also it's off the album that the Chili Peppers released on my second birthday.
thanks for sticking with me for this long, hopefully you'll come back next week!
— adrian